Oh, presents new "work" made by artist Tiago Duarte. Work in the sense of "work" between 'work', "work" in the sense of art'work'.."Work" that is made through the action of picking, finding and storing – repetition that comes after selection. And archiving. The exhibition comes from a place that is reached without the means of a studio; through travelling regularly between locations for reasons of care, labour and roots; and with limits on time.
Memo has partnered with Caustic Coastal, an independent art label based in Salford, to develop Oh,. All of us have links to Manchester, finding each other through the artist-led scene via various means. Dividing because life. Reconvening because art.
Memo is the working studio of artist Monty and designer Rebecca. The studio sometimes functions as a small and intimate exhibition space. Monty and Rebecca invite other artists to show their work in the space.
Illídio Candja Candja | Nina Chua | Nick Crowe & Ian Rawlinson | Tiago Duarte | Nicola Ellis | Pedro Cabral Santo | São Trindade | Katerina Eleftheriadou | Mary Griffiths | Richard Harris | Jo McGonigal | Maeve Rendle | Inez Teixeira
The Manama Papers, SD Worx Belgium, Antwerp, Belgium Curated by Pieter Vermeulen and Wesley Meuris

Bernardus Baldus (NL), Christophe Clarijs (BE), Rens Cools (BE), Eleanor Duffin (IR), Tiago Duarte (PT), Liesbet Grupping (BE), Adrijana Gvozdenovic (ME), Sarah Hendrickx (BE), Alex Herzog (CH), Saori Kuno (JP), An Onghena (BE), Benny Van den Meulengracht-Vrancx
"Prominent contemporary artists like Abramovic, Baldessari, Fischli & Weiss, Hirschhorn and many others have tried to reduce their artistic practice to a mere set of rules, in an ironic, playful or sincere way. These listings read like individual manifestos to be pinned above one's bed or working desk. Categoric prescriptions that would regulate boundless artistic freedom and give structure to the working process. But where does the seduction of these 'golden rules' come from? Are they the sought-after key to success, or just a way to cope with precarity? Are these rules any different from popular motivational quotes aimed at increasing performance and efficiency? Are they mere finger exercises or proper conceptual art pieces in themselves?"
Co-curatorship: Gregory Lang
A Constructed World / Xavier Antin / Mel Bochner / Jérémie Boyard / Dieudonné Cartier / Cejar / Michiel Ceuler / William Marie Claes / Claude Closky / Continuous Project / François Curlet / Aljosa Daumerie / Hanne Darboven / Alessandro de Francesco / Denicolai & Provoost / Tiago Duarte / gerlach en koop / Pati Hill / Hudinilson Jr / Nicholas Knight / Alison Knowles / LAb[au] / Jean Mathiaut / Jonathan Monk / Carsten Nicolai / Alexandre Perigot / Michalis Pichler / Steven Pippin / Wilfrid Rouff / Peter Scott / Yann Sérandour / Sonia Sheridan / Eric Stephany / Joseph Strau / Christophe Terlinden / Richard Torchia / Klaus Urbons / Michael Van den Abeele / Gil J. Wolman
"For the XEROX exhibition, Société returns to the analogue world of copy art, to confront the two dimensional exhibition space of printed matter with the three dimensional one of the exhibition space. From Steven Pippin's poetic interactions of copiers and scanners, LAb[au]'s entropic machine, Carsten Nicolai's sounds of transcoded information flows to Tiago Duarte's residu roll, Hanne Darboven's columns and rows, to Dieudonné Cartier's sculptural interpretation of station for art by fax, … all projects interpret the realm of paper and ink.
The exhibition presents artworks contemplating technical reproduction and multiplication introduced by Xerox, the historic leader in document technology, which was at the base of the iconic 'copy-paste' culture. New formats and forms of expression and diffusion emerged, among which the famous 'Xerox Book', which aimed to explore a democratic means for exhibition and reproduction and which was carried by the practice of writer-editor-curator. Experienced by protestors and artistic movements under the effigy of Fanzine then the Copy art, photocopying has created an aesthetic of the 'analogue', which has transgressed the medium itself. The aesthetic embraces the imperfections of the copy-process, with its faulty loss of information and granular texture. While the computer was created to reduce entropy, some artists are now seeking to regain that granularity in a digital practice, in contrast to our glossy world of clinical perfection. The exhibition sheds light on the 'warm' aesthetic of 'cold media' featuring artists in search of porosity and entropy, resulting of systems and processes shaped by a conceptual and poetic research, at a time when 'copy-paste' has gained its own meaning inside our daily digital realm."
Co-curatorship: Tiago Duarte and Mathew Pendergast
Tiago Duarte | Joke Van den Heuvel | Vijai Patchineelam | Posture Editions | Adrien Tirtiaux | Floris Vanhoof
In collaboration with UK/Belgium-based artist Tiago Duarte, Castlefield Gallery is inviting Belgium-based artists Joke Van den Heuvel, Vijai Patchineelam, Adrien Tirtiaux and Floris Vanhoof to exhibit existing, new and site-specific work. Diagonal Noise will also include a reading area displaying publications by Posture Editions (Ghent, Belgium) and the exhibiting artists, alongside publications by artists and organisations based in and around Greater Manchester. Diverse subjects and disciplines inform the practices of the exhibiting artists. Considering the effect technology has on the formal qualities of contemporary art, Duarte looks for recurrent patterns in the mechanics of production. Though these patterns may manifest inherent malfunctions or misappropriation of media, they form the basis for the continuation of erratic and repetitious exercises. Like Duarte, Vanhoof investigates technology, particularly formats whose days may be numbered, experimenting with analogue technologies that used to be known as 'high-tech' alongside contemporary digital technology. Technology is not an end in itself, but a means for poetically exploring images, ideas and sound with works that often begin as live performances. Sudden Shifts (2012) by Patchineelam was filmed in Jardim Canadá, Brazil, a small rural town which has seen radical industrialisation in the last decade. Static camera positions, montage and abrupt cuts continually reorganise durational still lifes of industrial objects and abandoned furniture, pressing at the boundary between narrative and non-narrative relations to image and site. Van den Heuval is also interested in narratives produced by the barely perceptible, acknowledging that the meaning of images cannot be contained by language. Recordings of repetitive actions and monotonous characters in looping scenes blur the observer's focus, inducing a kind of blindness towards the object – a blindness that makes seeing possible again. Tirtiaux deals with the specific characteristics of exhibition and public spaces, creating architectural interventions or large-scale sculpture informed by a careful examination of the given context in which he acts and works, drawing on the strategies of 70s conceptual art and the direct pictorial language of comic art.
Diagonal Noise will coincide with the EU referendum and as Thursday 23 June approaches the UK public are being asked to consider their relationship with the European Union in the context of politicised maybes. This could be an interesting coincidence, but this exhibition leans more towards causality than chance. In places the works in Diagonal Noise are intrusive, forcing or slipping their way into one another, presenting states of dis-encounter, contingent proposals below the watermark of comprehension, of what might have been or might yet be.
Judges: Ian Davenport, Artist - Amira Gad, Exhibitions Curator at the Serpentine Galleries in London - Helen Pheby, Senior Curator at Yorkshire Sculpture Park - Margot Heller, South London Gallery (SLG), Director
Word Document #12, Inkjet print on A4 200g Fabrianno paper, x4, 2015
Word Documents are a series of inkjet prints done on a home printer using Microsoft Word program. The overall surface of the paper is printed with one of the drawing patterns offered by Word and then reprinted for several times following the color pallet in the program. The same process is applied to each unit that constitutes a series. Theoretically all images in the series should look exactly the same given they undergo the same procedures in their making. The discrepancies observed from print to print are a direct consequence of human agency in the making which is the only non mechanical action within their production.
Nina Chua | Noel Clueit | Tiago Duarte | Nicola Ellis | Mary Griffiths | Jo McGonigal | Maeve Rendle
"Having worked together for several years the artists have identified particularities that divide as much as join the group. It is this tension – the division within the cohesion – that they wish to explore in more depth and that forms the outline for the work I propose to bring to Brussels; exploring the specificities of the art in direct dialogue with the architecture and use of the space. Questioning the boundaries of space allocation, gallery representation and authorship - resisting this format."
Tiago Duarte, 2015
Curated by Matteo Lucchetti.
Ario Akhlaghi - Ali Baharlou - Rens Cools - Tiago Duarte - Eleanor Duffin - Adrijana Gvozdenovic -- Koyuki Kazahaya - William Ludwig Lutgens - Denis Maksimov - Vijai Patchineelam - Ramon Pino - Julie van der Vaart
"In Luigi Pirandello's renowned meta-theatrical and absurdist play Six Characters in Search of an Author, the action opens with the rehearsal of a theatre company that is busy working on the mise en scene of another play by the Italian writer, titled Il giuoco delle parti, that translates into The Game of Roles. The function of the play within another play — where at some point six unknown characters come to the stage looking for their stories to be completed is the one of the meta narrative that accelerates the disappearance of the theatre space as such, and brings to the foreground a shifting dynamic roles that penetrates both the dramaturgical space as much as the real life to which the audience belongs to. The Game of Roles, the graduate show Master of Research in Art & Design (Sint Lucas Antwerpen), borrows its title from this interaction in Pirandello's plays and speculates on the different roles that the practices on show can interpret in an expanded idea of the exhibition. The artists participating to The Game of Roles, in fact, inhabit multiple roles, fields, formats through their practices, and therefore they share a vast set of strategies that allow them to enter in and out of the exhibition space. Using it differently each time: as a conference room, a kitchen, an office or a concert hall, to name a few. Paris Texas in Antwerp is imagined as two spaces, where two parallel exhibitions are taking place with the same participants, allowing the artists to diversify the presentation of their works through ways of repetition, displacement, or serialisation. In The Game of Roles the grammar of the exhibition is put into question by creating a meta level where every work could belong to a different environment while still claiming a position within the narrative of a contemporary art show."
Para 'Idem Idem Aspas Aspas', Tiago Duarte apresenta uma nova série de Monótipos sobre papel, realizada entre 2013 e 2014, que assenta nos formatos mais habituais da sua prática, assim como uma série de intervenções in situ que sublinham um diálogo em que o artista estabelece tangentes nas relações entre público, arte e espaço.
Para além do corpo de trabalho apresentado de forma dita clássica, o artista fará uma série intervenções que pontuarão o espaço de forma transversal e transgressiva, (re)agindo e dialogando diretamente com as caraterísticas arquitectónicas e funcionais da Plataforma
Contemporary Art Society, Not Just For Christmas, PS Mirabel, Manchester, UK
http://www.contemporaryartsociety.org/event/contemporary-art-society-north-selling-show-not-just-for-christmas/
Leo Fitzmaurice, Tracey Eastham, Evi Grigoropoulou, Naomi Kashiwagi, Nina Chua, Maurice Carlin, Tiago Duarte, Emily Musgrave, Bartosz Beda, Jo McGonigal, Madeline Hall, Lindsey Bull, Emily Speed, Harry Meadley, Andrew Lim
"In 2009, the Contemporary Art Society launched a pioneering membership programme in the North of England with the aim of bringing the rich diversity of artistic talent residing in the region to the attention of new audiences and potential collectors. Since then, Contemporary Art Society North has organised studio visits and talks with over 60 Northern-based artists across the North West, North East, and Yorkshire regions.
This December, in a first for Contemporary Art Society North, we are delighted to be organising Not Just for Christmas…, a selling show hosted by Manchester-based PS Mirabel. Filled with an abundance of contemporary artwork for a range of budgets (starting at £50 and no higher than £1500) the exhibition features work by over 20 artists practicing in the region that we have had the opportunity to get to know over the last 4 years."
Curadoria Victor Pinto da Fonseca
António Caramelo, Fabrizio Matos, Gustavo Sumpta, João Fonte Santa, Jorge Feijão, Luís Alegre, Inez Teixeira, Pedro Cabral Santo, Rui Toscano, São Trindade e Tiago Duarte
Imaginação é o veículo da sensibilidade. Transportados pela imaginação (efectiva), alcançamos a vida, a própria vida que é a arte absoluta. Yves Klein

Dive in parte da obra "Le saut dans le vide" (1960) de Yves Klein; da intenção de invocar a ideia que a arte transporta um ideal de liberdade, fundado no saber, no conhecimento, na experiência, no rigor e na beleza que nos permite imaginar um mundo melhor. Desde as suas origens, a arte tem sido o elemento regenerador de toda a cultura, razão para que o tempo presente deva ter uma relação necessária e vital com a arte.
A exposição decorre do actual contexto de precaridade e empobrecimento: é uma construção conceptual - associada à ideia de liberdade e à ideia de autonomia em sentido amplo. A temática -elástica na sua aplicação- pretende transpôr para a exposição um conceito de reflexão analítico, manifesto privado, revelação do momento actual, da necessidade de se reactivar a imaginação e a sensibilidade.
Dive in nutre-se também do pensamento de Franco Biffo Berardi , filósofo italiano, que considera a noção de recuperação económica uma completa mitologia nas circunstâncias socio-económicas actuais.
Para Biffo a crise actual é algo mais fundamental que uma crise económica, é essencialmente a crise da imaginação social e requer uma nova atitude, um modo de reactivarmos a sensibilidade (sensibilidade é o talento intelectual para percebermos o que não pode ser verbalizado e é vitima da precaridade e fragmentação do tempo actual).
Escreve Franco Berardi: "Eu não quero dizer que devêssemos opor uma acção estética ao poder do capital. Não sou tão ingénuo. (...) Estou à procura (mas ainda não encontrei a resposta), de uma forma eficaz para destruir o poder opressivo, depressivo e empobrecedor do capitalismo financeiro, que se baseia essencialmente na submissão da sociedade. Por que razão a sociedade se submeteu tão facilmente? Esta é a questão que tem que ser explicada e compreendida. As pessoas sabem que os bancos estão a destruir as suas vidas. Nem toda a gente compreende isto, mas uma grande parte da sociedade sabe-o. As pessoas sabem mas são incapazes de alterar o automatismo das suas vidas diárias. Têm crianças e porque é que as pessoas têm crianças? Ora aí está algo que não compreendo; as pessoas precisam de comprar um automóvel e enche-lo com gasolina, precisam de dinheiro porque só o dinheiro compra estas coisas. São obrigados a aceitar a chantagem e isto vai modelando lentamente as suas mentalidades, as suas sensibilidades, as suas expectativas. Por isso as pessoas tentam não pensar naquilo que sabem. O capitalismo está a destruir as suas vidas, porque estas são as únicas vidas que são capazes de imaginar e viver.
O problema é que o capitalismo contemporâneo não pode ser alterado mudando as leis. Não só os políticos são intrinsecamente corruptos - se queres ter poder, precisas de dinheiro, tens que ser suportado pelos grandes media e por aí fora - como a máquina da decisão política é incapaz de mudar o automatismo do dia a dia. Só mudando coisas como a nossa expectativa ou a nossa forma de viver na cidade pode desgastar o poder do capital. Para mudarmos o dia a dia precisamos de solidariedade mas a solidariedade foi destruída pela precariedade e competição.
O problema é a autonomia - a capacidade actual para nos desviarmos dos automatismos que suportam e favorecem o poder. Eu penso que autonomia só é possível quando as pessoas se tornam capazes de mudar as suas vidas diariamente - cortando os links da dependência ao consumo e do abuso da boa-fé, por exemplo. Mas não tenho a certeza que possamos ter êxito criando uma frente efectiva de resistência, porque a dissolução da força trabalhadora não tem sido um problema de organização mas sim um problema das expectativas culturais e formas de vida.
De qualquer modo, agora é tarde: a tempestade está aí e nós não temos abrigo".
Dive in foi concebida para artistas implicados socialmente de uma auspiciosa generosidade para o que aí vem; partilham consistentes percursos artísticos e backgrounds culturais. Mais importante, artistas capazes de determinarem novas formas de como olharmos o mundo com importância, com mais interesse, com uma nova atitude.
A exposição evita a imposição narrativa, a habitual dependência curatorial em não pensar em mais nada que não o aspecto físico das obras que mencione o tema concretamente.
A exposição funciona como ideia - devendo aparecer naturalmente ao espectador, ele mesmo regula o efeito desejado; uma vez li uma entrevista com Marcel Duchamp realizada na época em que construiu "Large Glass" (1915-23) e em que Duchamp referia que nesse tempo a 4a dimensão era um tópico na filosofia e o ponto era encontrar essa 4a dimensão. Dive in poderá ser a mesma coisa.

Lisboa, Setembro 2013
Victor Pinto da Fonseca
Nina Chua, Tiago Duarte, Nicola Ellis, Mary Griffiths, Jo McGonigal, Maeve Rendle
"The temporary exhibition venue has been given a few coats of paint to present an archetypal white-walled, grey-floored gallery space and the floor plan handout numbers the works clockwise from the entrance. Work number 1 by the entrance is a stack of screenprinted office files by Tiago Duarte. The insides have been printed with blues – minus blocks of absent pigment – and these are stacked neatly in the corner creating horizontal lines of colour amongst the office-neutral buff and beige. Further along the wall hangs a pen drawing by Nina Chua echoing these blue lines with one of her felt-tip pen line drawings; this one in vertical greens and blues. Sandwiched between these colour parallels is a 3 piece Spandex assemblage by Jo McGonigal entitled Dirty Orange. The two smaller flesh coloured Spandex pieces have been dipped in luminous orange paint. There is definitely a colour matching theme going on here. Laid out on the floor opposite Dirty Orange is an amber glass-fragment organic form by Nicola Ellis. It sparkles under the spotlights like semi-precious gems in one light; like dried, bloodied mucus in another.
Just as colour matching seems the order of day, line and mark-making affinities materialise: Adjacent to Chua's aforementioned Blue Green hangs a series of graphite drawings by Mary Griffiths. The inscribed graphite is in geometric parallels of modernist simplicity, titled Loft, Covered Way and Accumulator – suggestive of architectural designs; plans for something. Maeve Rendle's video Mabel's Voice has a similar focus on arrangement. The video image appears constructed or considerately framed and a simple piano melody plays moderato. Jo McGonigal's framed Horizontal Fold #5 and Carbon Drawings laid out along a table are similarly simple placement variations of singularly folded carbon sheets.
Experiments in print processes using traditional materials are explored by Tiago Duarte and Mary Griffiths. Tiago Duarte's The Varnishes are monotype prints of varnish. The whole surface has been applied with varnish, as opposed to where ink is to be stopped, and passed through a press. The result exposes the quality and variation of the materials under these conditions. Mary Griffiths has covered a slight concavity of flooring with graphite entitled Black Lead. Without a handout to denote a piece of work, you first become aware of it as a change in surface underfoot. In the spotlit grey-floored space you might even miss the subtle shade difference from the paintwork to the graphite footprints being trodden about the place. The audience become the perhaps accidental participants in the work; printing shoe impressions as they move from one work to the next and back again."
Alice Bradshaw is an artist, curator, researcher and writer based in West Yorkshire.
2012
Curadoria | Tiago Duarte e Ian Rawlinson
Pavel Büchler, Nina Chua, Nick Crowe and Ian Rawlinson, Tiago Duarte, Nicola Ellis, Mary Griffiths, Shona Harrison, Ana Rosa Hopkins, Jo McGonigal, Fiona McKillop, Eileen O'Rouke, Richard Proffitt, Maeve Rendle, Evangelia Spiliopoulou.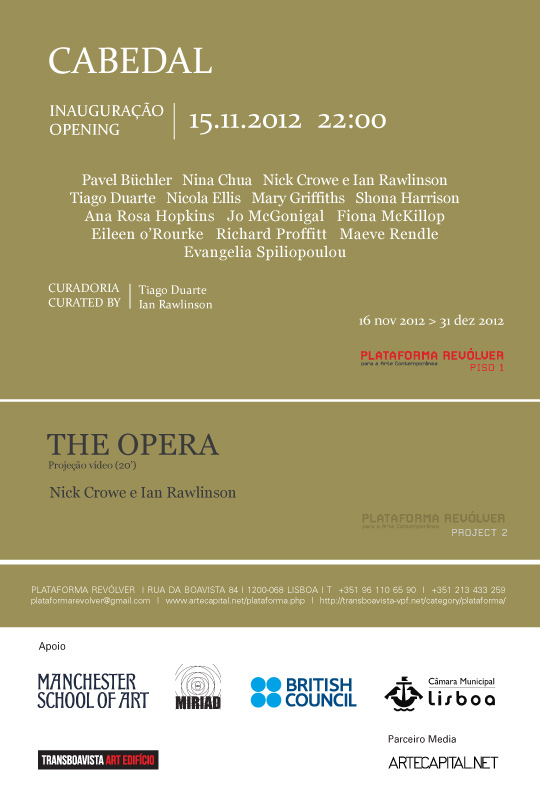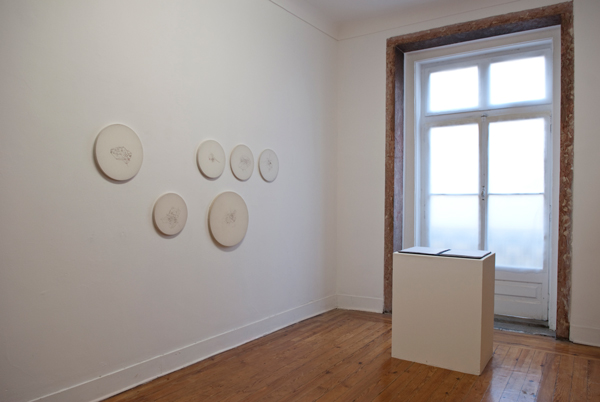 Manchester to Lisbon to Manchester
The white light that fills the atmosphere on a cold and crispy November day is no news for these prosperous cities at the western edge of Europe. Somewhere from amongst the beloved seven hills of one of this cities caravels were carved out of the best available wood for the maritime enterprise that would make Lisbon one of the great commercial centres of the 16th, 17th and 18th century. At an equal latitude but further north of the Bay of Biscay, Manchester was still an embryonic project; this northern capital could not guess what links would emerge between the Portuguese voyage and the immanent economic boom that would transform the face of these cities and of the world. In a time of enlightenment Lisbon carried the sounds that surrounded the busy streets flooded by small industries; The labour implied in the project of making the world a smaller place, blacksmiths, carpenters, food and spice markets, map making workshops, maritime academies, tanneries and the ever eternal flux of people in their day to day trades of a market place that each day presented something unknown to the traditional trade of the plazas of Europe. Up north the dream of industry was being forged. As vast land resources opened up the planet diminished in size. Industry and its various implications for labour were redesigned and equipped with the propulsion to feed a market that was becoming global. In this world the craft attributes of the commodity where adapted to the speed necessary to manufacture and distribute product to the globe. Though the European enterprise 'discovered' land and rediscovered a use for its substances, a voracious capacity for distribution was immanent at the heart of its endeavour. It seems that somehow the implication of both these enterprises, distinctive in intention and design, has had a strong influence on artists' behaviour and achievements. The contradictions of both the expansion of the known world and the invention of the "modern commodity" shaped our cities, cultures and minds. We wonder at how meaning can be extracted from the brutal social and economic transformations of the last three centuries in relation to the art being produced today? At how we draw a line from what has had a direct influence on production (whatever its nature) and what has not? The overheated pressure to produce, to be productive, is matched only by the overwhelming call to consume and both are coercively established as the defining feature of modern existence. To quote Peter Fischli – 'There's certainly a pleasure in occupying yourself with something for an unreasonable length of time' (Fischli & Weiss, Flowers and Questions, Tate Modern, 2007) and this rebellion is a form of resistance to the choking and coercive social order that reproduces itself at every turn. To be modern is to be in a condition of alienation – and the condition of the artist is to be re-productive in the absence of any utilitarian, societal or ecological demand for art. Although technological obsolescence is the conspicuous driving force of our current economy, artists continue to forge meaning from the availability of materials to work with. It seems that more than anything - meaning, for the artists, is extracted from the labouring activities of art itself. The doing as much as the making. In Cabedal we encounter touch and manipulation, the savoir faire shoulder to shoulder with the motivation of intellectual nature and cerebral intention. These two notions are explored without confrontation. The expectancy for deliverance does not arrive solemnly from our attempt to comprehend but from our perceptive system as well. Without the "presumptuousness" of wanting something more from the art object than what it perceptively offers this exhibition is an invitation, an open door, an assumed "come and see". Cabedal is a word that describes a material by itself strong and resistant, made with the intention of lasting throughout its long use as an accessory or as a working tool. But, here 'Cabedal' is an allusion to the visible remains of things that have been done. Referencing not just the ephemerae of life in the scale of time but expressing the perversity of a long lasting "mark" left on things that tragically outlive their author. This exhibition intends to show how surface is worked through as both an aesthetic and conceptual concern and how different artists have played out these same concerns across different modes of production. Superficially a dialogue emerges between how things look and our ambition to "understand through looking". It is at the skin of each work that the physical theatre for artistic expression can be found - debating and deliberating surface and its appearance as a register of meaning, authority and memory. The corporeal appearance of a surface allows our perception to uncover some of the methods and techniques utilized by the artists in the action of doing; the modus operandi with which each artist conducts their fabrication or alteration of objects. On the other hand our limited visual perceptions seduce or distract, revolt or emphasise without resolving or revealing. "The true reality of an object lies only in a part of it; the rest is the heavy tribute it pays to the material world in exchange for its existence in space." In The Book of Disquiet, Fernando Pessoa, Serpent's Tail, London, 1991. These objects and their appearance operate in the most honest and perverse method of captivation by acting as bait for the eye. It is in the perceptive triangulation between object, its appearance and it's possible "meaning" that surface acts as the intermediate channel between spectator and spectacle engaging the viewer with the art. It is with these notions of surface, superficial and superfluous intertwined with the universal human condition for signifying and significance, that the show effects a release from notions of pure aesthetics, from veneers of appearance to justify deeper meanings. In Cabedal the formal aspect of things are explored at the surface level. They confront us with not just the artistic practice in the making of these "things" but with questions of seduction and rejection. Cabedal is addressed and conducted through a code of "appearances" that manifest formal visual qualities by denuding the materials and ethics of production for such things. In English to be possessed of a 'thick skin' is to be insensitive, however, here as Cabedal - it is to be of substance, resistant, strong and virile.
Tiago Duarte e Ian Rawlinson, 2012
Nina Chua, Tiago Duarte, Nicola Ellis, Shona Harrison and Ana Rosa Hopkins
"The similarities between our practices are as significant as the characteristics that separate them. Inevitably one finds a certain ethos throughout the work related to common art making concerns: material, process and production are elements that link these practices but it is in the healthy articulation of the idiosyncrasies of each piece that the real substance for the art can be found. Indeed what connects us and our work is the ease and complicity that each individual shares with the other, a lasting legacy from the academic experience, a sense of cooperation in the making, whilst the work itself is left open to its characteristics as a unit of artistic labour."